Protecting Long Island's sole-source aquifer system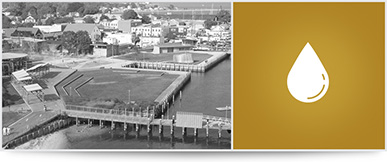 The only source of drinking water for Long Island's 2.85 million residents is its sole-source aquifer system. As the 2018 Final Report of the Long Island Index explains, "Unlike other areas in the region, such as New York City or northern New Jersey, Long Island is not connected to a larger network of water supply sources. Instead, Long Island is wholly dependent on the groundwater aquifers that ebb and flow in quantity based on the amount of water consumed and the amount of water that is able to replenish these sources. Given this critical dependence, management and protection of the supply is essential, particularly as climate change makes rainfall more unpredictable and droughts more likely. Yet, Long Island households consume more water than every other part of the region except northern New Jersey. With lawns, larger homes and more cars to wash, water consumption is higher in suburban areas. And given the concentration of development along Long Island's coastline, excessive groundwater pumping near the coastline has led to 'saltwater intrusion' or the contamination of portions of groundwater with saltwater, making it undrinkable."  
Since the 1970s, there has been a steady decline in the quality of Long Island's water, because there is no integrated water management system in place and no central repository for data collected on the aquifer system. More than any other issue, Long Island's water management highlights the deficiencies of its fragmented "home rule" system of government.
The Rauch Foundation believes that by focusing its resources on the issue of water, it can have a meaningful impact on the ways in which Long Island manages its water supply. This belief is based on years of successful environmental work through the Foundation's grantees. 
One of the Rauch Foundation's longstanding grantees, for instance, is the Long Island Pine Barrens Society. In no small part because of the Society, Long Island has expended nearly $2 billion to protect more than 60,000 acres of environmentally sensitive lands that help protect the island's drinking water.
The Rauch Foundation has also funded research on wastewater treatment systems at Stony Brook University's Center for Clean Water Technology. That research advanced the piloting process for a non-proprietary onsite wastewater treatment system (called "Nitrogen Removing Biofilters") that the Center has been researching in its effort to develop affordable high-performance systems to replace the cesspools and septic systems that serve more than 500,000 Long Island properties. 
The Rauch Foundation has also been instrumental in funding the Long Island Clean Water Partnership – a coalition of Long Island's leading conservation organizations including Citizens Campaign for the Environment, Group for the East End, Long Island Pine Barrens Society, and The Nature Conservancy. Together, they partner and collaborate with scientists, public officials, community members, and other stakeholders in order to implement solutions to the decline in water quality on Long Island.


Long Island Clean Water Partnership
The Long Island Clean Water Partnership addresses three priorities of the Rauch Foundation. It tackles issues facing the region's water supply; it employs a new model of working together for Long Island's future, and it engages a broad constituency in addressing the problem. Read more.