Working together:
Our focus on regional leadership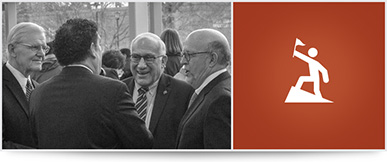 The Rauch Foundation has long had a fundamental commitment to regional leadership on Long Island. That commitment has three components: understanding the challenges and opportunities facing the region; engaging leaders across the region in addressing those challenges and opportunities; and advancing new ways of working together to achieve regional improvement.
The first of those components is best exemplified by the Long Island Index, which for 15 years (2003-2018) provided objective data on Long Island and comparisons with nearby suburban areas. That research revealed many challenges and opportunities facing the region – and led to significant initiatives to address them.
The second component of the Rauch Foundation's commitment to regional leadership is engaging leaders across the region. The Foundation has helped create The Energeia Partnership at Molloy College to bring together rising leaders from across the region to understand better Long Island's challenges and opportunities and to ensure that those leaders knew each other. It has produced an ongoing network of leaders who now have a common experience and understanding on which to draw.
The Rauch Foundation has also provided crucial support for the creation of the Right Track for Long Island Coalition, the region-wide collaboration advocating for the LIRR's Third Track. That collaboration includes major organizations, institutions, businesses and individuals representing more than 500,000 Long Islanders.
The third component is advancing new ways of working together to achieve regional improvement. In that regard, the Rauch Foundation has had extraordinary impact. In Maryland, the Foundation was instrumental in the creation of Blue Water Baltimore, the merger of five local environmental groups into a single major regional force for environmental improvement. The Foundation has also helped create, among other entities, the Long Island Clean Water Partnership (to address the region's water supply), The Sustainability Institute at Molloy College (to advance environmental protection and civic responsibility), and nextLI powered by Newsday (to succeed the Long Island Index in providing objective data on conditions on Long Island).

nextLI
In April 2018, the Rauch Foundation and Newsday announced the formation of nextLI, a new research entity created and managed by Newsday's editorial pages that would succeed the Long Island Index as the regional index for Long Island. Read more.

The Energeia Partnership
The Energeia Partnership is a leadership academy at Molloy College, which recruits proven ethical leaders in the private, public, and not-for-profit sectors of Long Island and brings them together to network and strategize about new approaches to regional issues. Read more.

Breaking Through: How Smart Partnerships Overcame Decades of Resistance to Modernize America's Busiest Commuter Railroad
Rauch Foundation commissioned journalist Elizabeth Moore to write a case study of how the Third Track on the LIRR's Main Line was finally approved after 70 years of contentious debate. Documenting the history as well as the coalition building that finally brought this to successful conclusion, the report details all the ups and downs along the road. Read more.