Breaking Through
How Smart Partnerships Overcame Decades of Resistance to Modernize America's Busiest Commuter Railroad

The Long Island Rail Road (LIRR), connecting suburbs and rural communities to the heart of New York City, is the busiest commuter railroad in the United States. Yet the railroad's ability to serve the region's riders has been hampered by a major weakness, one it doesn't take an engineering degree to understand: Four LIRR branches converge on the rail road's main line in western Nassau County, funneled onto just two tracks that now carry more than 250 trains each day. Meanwhile, the tracks are intersected by seven street-level crossings, causing traffic to build up as trains pass and posing a danger to pedestrians and motorists alike. The combination has meant chronic delays, limited service and the embarrassing fact that the main artery of the nation's busiest commuter railroad can only send trains in one direction for most of rush hour. And it has left a long, tragic legacy of avoidable fatal accidents at those crossings. 
For more than 70 years, experts urged the addition of a third track stretching alongside the other two between Floral Park and Hicksville, a seemingly simple 10-mile stretch of rail that would have outsized positive impact for commuters, drivers and communities along the way. And for just as long, political recalcitrance, local NIMBYism and a hefty price tag drove a series of political battles that kept the needed work from getting done.
Yet today construction of a third track, officially known as the "LIRR Expansion Project from Floral Park to Hicksville," is under way and scheduled for completion by the fall of 2022. How was this $2.6-billion package of projects finally set in motion?
This case study, "Breaking Through," traces over a century of the LIRR's contentious political history and it chronicles the parochial tensions of the 2000s that at one point left the Third Track project politically dead. Having assessed the battles of the past, the Rauch Foundation was determined to avoid the same mistakes in the future. They marshaled a broad and vocal campaign of popular support, the "Right Track for Long Island Coalition," which helped to deliver one of the most transformational political, social and economic achievements in Long Island (and New York) history.
The success of the Third Track project proves that big change is possible. But it doesn't happen overnight. It requires everyone – advocates, experts, elected officials, philanthropy and engaged citizens – to choose progress over partisanship and the status quo. The third track is a model of partnership and persistence, a shining example of how thoughtful research, engaged place-based philanthropy, respect for local concerns and cross-sector collaboration can realize a better, fairer and faster future for all aboard.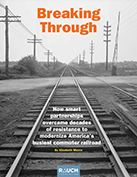 Recent News
The MTA details third track progress – Editorial Board, Newsday, Sept. 28, 2019
Report: Timing, teamwork won over Cuomo, Long Islanders to start Third Track – Alfonso A. Castillo, Newsday, Sept. 27, 2019
LIRR third track is a can-do blueprint for the region – Editorial Board, Newsday, Sept. 28, 2019
How the Third Track Happened 
Breaking Through: How Smart Partnerships Overcame Decades of Resistance to Modernize America's Busiest Commuter Railroad was presented on Friday, September 27, 2019, at a launch event hosted by the Long Island Association, in partnership with Newsday's nextLI initiative. Speakers included MTA Chief Development Officer Janno Lieber, Rauch Foundation President Nancy Douzinas and Long Island Association President Kevin Law.
A panel moderated by Newsday Opinion Editor Rita Ciolli discussed how this model could address political gridlock across the nation. The panelists were Nassau County Executive Laura Curran, Deputy Suffolk County Executive Lisa Black, Westbury Village Mayor Peter Cavallaro, Right Track for LI Coalition Executive Director Dave Kapell, Rauch President Nancy Douzinas, and New York State Laborers' Organizing Fund Rob Micaleff.