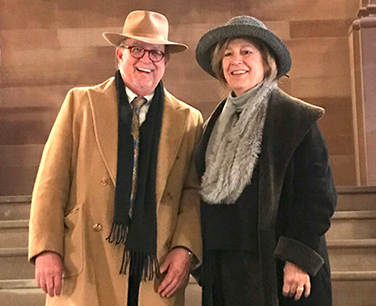 Nancy Rauch Douzinas served as the Foundation's president for more than thirty years. Here she is with Dave Kapell, long-time consultant and former mayor of Greenport, NY, celebrating the success of the Long Island Railroad's Third Track initiative.
The Rauch Foundation is a family foundation that invests in ideas and organizations to spark positive systemic change.
In 2023, the foundation is undertaking a generational change in leadership as Nancy Rauch Douzinas retires and her daughters, Eva Douzinas and Ruth Douzinas, take on the positions of President and Vice President.
For more than thirty years under Nancy's leadership, the foundation invested in ideas and organizations fostering systemic regional change in early childhood and the environment. From 2004-2018 it published the Long Island Index, an annual compendium of objective data and analysis on key issues facing the region. Formed as a cross-sector partnership of thought leaders from business, labor, community groups, health care, and academic and research institutions, the Index's many endeavors included catalyzing the region's commitment to a $2.6 billion infrastructure project (The Third Track) that expanded capacity and mobility on the Long Island Railroad.
Today, under the leadership of Eva Douzinas and Ruth Douzinas, the Rauch Foundation continues to pursue projects with the potential to be transformative. There are historic family ties to Poros, Greece, and the foundation's global food systems research begins there. Through a partnership with Katheti AMKE, a nonprofit co-founded by Eva Douzinas, the foundation is undertaking an extensive analysis of industrial fish farming on the island. The research and conclusions drawn from that work will help to inform other regions around the world confronting similar threats to their economic and environmental sustainability.
The foundation's work in financial literacy acknowledges growing national support for a curriculum that helps young people develop the skills to navigate a successful future for themselves and their families.
"The generational transition in leadership presents the opportunity for reflection on future strategic directions of the Rauch Foundation, allowing us to build on its reputation and outsized influence for a foundation of its size."

—Nancy Rauch Douzinas, Board Chair
Our New Look
Those familiar with the Rauch Foundation will see that we have a new look! We have selected as our new logo the Barred Owl, which is the most familiar species of owl in the northeast, with a year-round presence in Vermont and New York. More heard than seen, its distinctive loud call is said to be asking "who-cooks-for-you," a nod to our program priority around food systems. The Barred Owl symbolizes intuition, vision, understanding and knowledge. The owl is positioned in flight, to represent a journey to independence. Through our programming, we hope to prepare young people for this journey so that, leaving school, they too are ready to fly off on their own. The hand-drawn single line owl contrasts with the solid serif font of the foundation lettering which signifies an organization with a long history of influence and stability. The soft, fluid, imperfect form of owl represents our domain of philanthropy as a process and work in progress.