Rooted in innovation.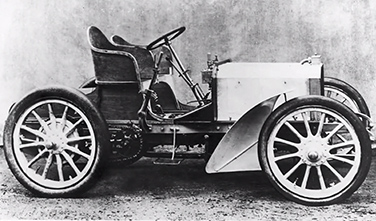 1901 Benz-Rennwagen
In all our work we are guided by our entrepreneurial roots. Philip Rauch Sr. was the chief automotive designer for the Benz Company and the inventor of the hose clamp, a small device consisting of three parts that played a big role in the growth of the auto and aerospace industries.
Once he realized the extent of the demand, Philip started the Ideal Clamp Manufacturing Company, which expanded production during World War II and later went on to supply clamps for race cars after driver Bill Vukovich won the Indy 500 in 1953 with an average speed of 128 mph, thanks in part to the Ideal clamp. The clamps also became ubiquitous in households, where they continue to be used in refrigerators, air conditioners, washing machines, garden hoses, boats, and plumbing fixtures.
Philip's two sons, Philip Rauch Jr. and Louis Rauch, who took over the business, created the Rauch Foundation in 1961 to support a wide range of educational and social causes. From that success, the Rauch Foundation evolved to create its own legacy in the fields of children and families, the environment, and regional leadership. That legacy continues to grow.
A timeline of the Rauch Foundation's history is available here.